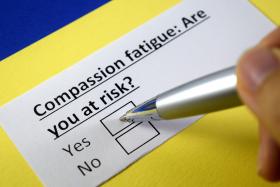 Compassion Fatigue and Caregiver Burnout: What You Need to Know
Compassion fatigue is a significant mental health concern that may be experienced by care providers who repeatedly engage with people in distress. Burnout, compassion fatigue and secondary traumatic stress impact turnover, job performance, satisfaction and safety. They also impact the professional longevity of healthcare providers and influence their quality of life. These forms of exhaustion take a toll on healthcare providers and their employers and are commonly associated with increased staff turnover, absenteeism, poor coworker support, depersonalization, increased errors, decreased performance, decreased satisfaction and substance abuse problems. A formal compassion satisfaction program, designed to educate healthcare providers about contributing factors for compassion fatigue and the deleterious effects of chronic stress, may reduce the negative effects of caring and promote resiliency skills in healthcare providers. For caregivers to provide great care for others and help themselves live a great life, they need to make sure they appropriately care for themselves. This course, in its entirety, will take an estimated 59 minutes to complete.
Transcripts are available upon request. 
Target Audience
All healthcare professionals
This course will review the challenges of compassion fatigue and the role of compassion satisfaction as it relates to mitigating the risk of burnout.
Define caregiver burnout in health professionals.
Recognize burnout as a byproduct of compassion fatigue.
Identify methods and means to prevent burnout.
Describe the correlation of strong, caring emotional relationships in self-care.
Dawn Schwartz, MSN, ARNP, NNP-BC, IBCLC, CBIS, CHPPN, Director of Nursing and Pediatric Palliative Care Consultant, ChildServe
Dawn Schwartz is director of nursing and a pediatric palliative care consultant at ChildServe, an organization that improves the health and well-being of more than 4,600 children annually through specialized clinical, home and community-based programs and services. Her leadership role and responsibilities include establishing and overseeing standards of care, policies, and practices that promote highest quality of care, providing organizational leadership for infection prevention and control, antibiotic stewardship, advancement of clinical education, development of the nursing team, and pediatric palliative care education and consultation. Schwartz obtained a diploma in nursing from Mercy School of Nursing, a master's degree in nursing-neonatal nurse practitioner and a doctorate of nursing practice in nursing leadership from the University of Missouri-Kansas City. Her doctoral evidence-based quality improvement project promoted the transformation of compassion fatigue into compassion satisfaction through the implementation of compassion carts in pediatric complex care settings.
No continuing education is provided for this course. The user will receive a certificate of completion upon completing the course.