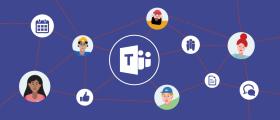 Microsoft Teams Staff Training
Microsoft Teams a messaging app – a workspace for real-time collaboration and communication, meetings, file and app sharing and even the occasional emoji. All in one place, all in the open, all accessible to everyone.
Using Microsoft Teams, you can chat, meet, call and collaborate – from anywhere.
Learn how to do more with Teams by taking this course.
Learning Objectives
Explore the capabilities and uses for Microsoft Teams.
Increase your level of comfort and knowledge using the platform.
Quick Start
Intro to Microsoft Teams
Set Up and Customize Your Team
Collaborate in Teams and Channels
Work with Posts and Messages
Upload and Find Files
Start Chats and Calls
Manage Meetings
Set Up and Attend Live Events
Explore Apps and Tools
Manage Team Schedules with Shifts
Manage Your Activity Feed
Teams on the Go
Get Started with Teams